The Only Constant is Change: State adoption and replacement of CCR standards
These days, decisions to retain, revise, or replace statewide college- and career- readiness (CCR) standards appear constantly in the news. In fact, the increasingly political nature of the Common Core State Standards (CCSS) in particular has stirred state activity to such an extent that legislators introduced over 770 bills concerning academic standards in 2015 alone. By the end of the year, 14% (170 of 1,209) of the total number of enacted or adopted education legislation specifically addressed CCR standards,[1] further showcasing weight of the standards.  
To make sense of the ebb and flow of CCR standards from 2011, after most states had adopted CCSS, to 2015, I created the following table: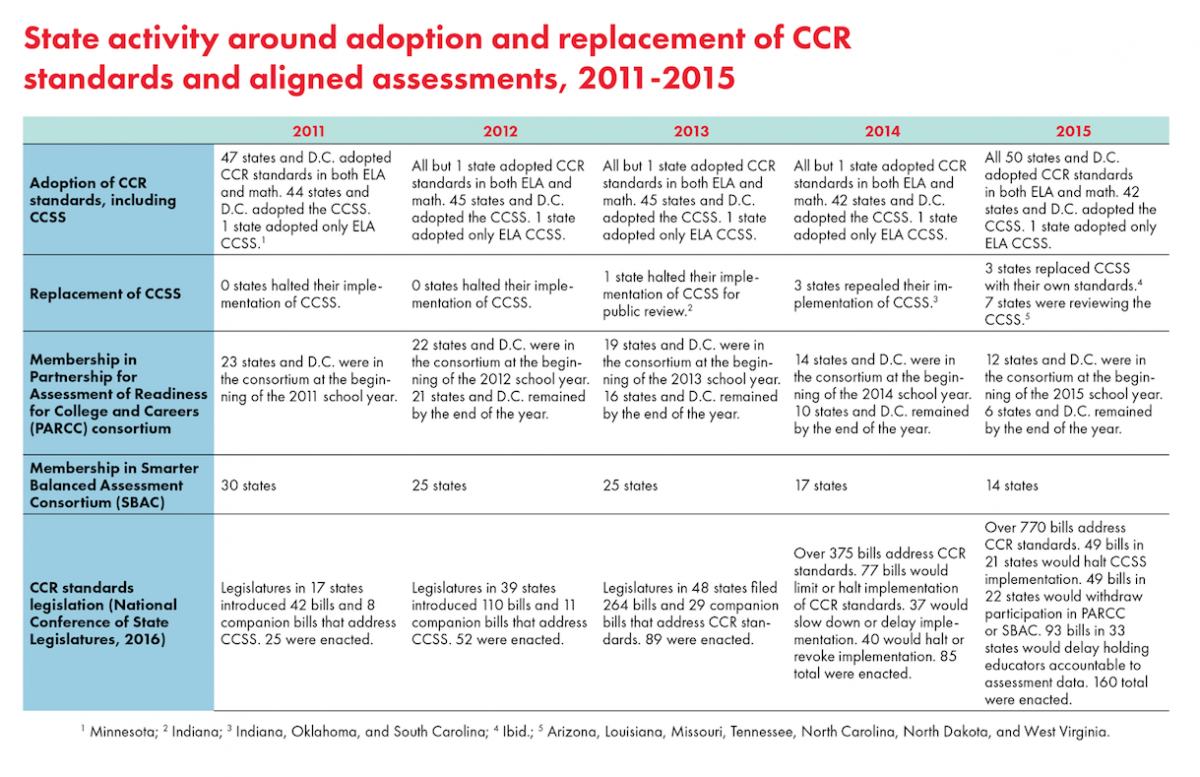 Already in 2016, Missouri has approved new standards to replace CCSS. Personal communication with state officials confirm that West Virginia and Oklahoma are slated to implement new CCR standards in the 2016-17 school year, while Arkansas plans to do the same in 2017-18. The regularity of such changes had me asking, are there explicit policies and regulations in place that require states to amend their K-12 standards? The National Association of State Boards of Education helpfully provided this information, captured in the list below:
Five states and D.C. review/revise their standards on a "regular' or "periodic" basis: Nevada, New York, Ohio, Texas, and West Virginia.
Three states review/revise their standards annually: Mississippi, Montana, and New Mexico.
Two states review/revise their standards every three years: Illinois and Pennsylvania
Five states review/revise their standards every five years: Delaware, Idaho, Nebraska, New Jersey, and Wyoming. South Dakota Career Technical Education (CTE) standards are reviewed/revised every five years as well.
Four states review/revise their standards every six years: Arkansas, Florida Oklahoma, and Tennessee.
Six states review/revise their standards every seven years: Kansas, Louisiana, Oregon, South Carolina, South Dakota, and Virginia.
Two states review/revise their standards when they "deem it necessary": Hawaii and Iowa.
The state Commissioner of Education in Minnesota reviews standards every ten years.
These statistics indicate the potential for education fads to come and go, as regularly mandated opportunities to update standards occur in an ambiguous context where we question the impact of CCSS on achievement, education leaders oscillate their stances on opting-out, and common assessments wane in popularity. In this ever-changing landscape of "what works" for children, how should policymakers and administrators maintain stable teaching and learning environments for their schools and families? How do they blend and manage frequently fluctuating opinions regarding standards without creating too much disequilibrium?
In this ever-changing landscape of "what works" for children, how should policymakers and administrators maintain stable teaching and learning environments for their schools and families?
Kentucky, one of C-SAIL's partner states and the first adopter of CCSS, took up this challenge by inviting stakeholders to help shape the future of their Core Academic Standards. The Kentucky Department of Education (KDE) not only sought to build awareness of their ELA and math standards, they intended to collect actionable feedback on their standards as part of their regular review process in order to make changes that were desired and rational. This incorporation of their constituents' views towards the standards reflect KDE's commitment to sustainable and meaningful development. 
Thus, from August 2014 to April 2015, the department gathered input from almost 4,000 stakeholders, 50% of whom were teachers or retired teachers, 20% were parents, 8% were administrators or district staff, another 8% were business or community members, while the rest consisted of students, professors, and state agency partners. 88% of these respondents shared their satisfaction with the standards and lacked any recommendations for changes. 12% suggested changes that ranged from moving certain standards to different grade levels to rewriting or truncating some of the standards. Excel spreadsheets containing these responses can be found here: English/language arts standards feedback and mathematics standards feedback.
Currently, teams of content experts, teachers, and KDE staff are culling through these written responses to propose revisions that improve CCR-aligned learning opportunities for students. Implementation of modified standards will not occur until teachers and the Kentucky Board of Education review and sign off on these changes. Of course, while the intention to prioritize and incorporate feedback seems preferable, C-SAIL interviews and surveys intend to capture how such processes actually influence stakeholder perceptions of change.  
Ohio, another one of C-SAIL partner states, has also initiated a process for standards revision. Their department of education has just recently closed their survey asking for educators and parents to comment on their experiences with the ELA and math standards. ELA and math advisory committees convened on April 14th to learn about the survey results and determine guidelines for working groups to suggest actual revisions. Applicants to working groups hailed from all grade levels across different school types in Ohio and selected participants are now charged with meeting in May through June to draw upon their extensive experiences with standards, collate the suggestions from the survey, and make recommendations for revisions. The department's goal is to have modifications available for public review in July so they have time to prepare for the transition to implementation in the 2017-18 school year.
Texas and Massachusetts, C-SAIL's final two partners, have also just completed their own review processes for their new ELA and Science, Technology, Engineering, and Mathematics (STEM) standards, respectively.
This responsibility to solicit feedback directly from the field is both strategic and ethical. It signals a democratic commitment to listen to the knowledgeable voices from practitioners throughout the state. Evidence-based decision making, in these cases, are unfolding in hopefully an informed and stable manner. The question to be continuously asked, however, is, are the revisions being suggested serve all students' best interests? Additionally, how can we make sure that these efforts to refine learning standards aren't just creating more opportunity gaps for the students already underserved by our society?
These are the types of questions I hope we are always asking ourselves and our state representatives with the power and privilege to make such decisions.
To download a PDF of the table, click here.
---
[1] For the total number of enacted or adopted bills in 2015, view http://www.ncsl.org/research/education/education-bill-tracking-database.aspx. For the total number of CCR standards enacted or adopted in 2015, view http://www.ccrslegislation.info/legislation-by-year/2015/dashboard.