Free C-SAIL webinar series on differentiating instruction for special populations
Thursday, October 3, 2019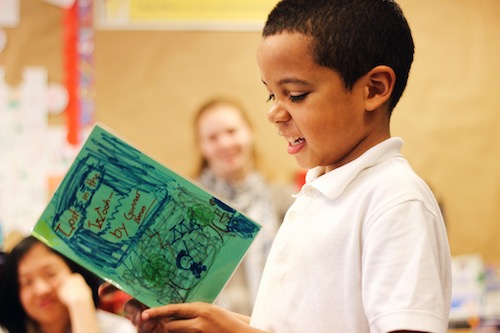 Standards-based instruction requires rigorous teaching and learning strategies for all students, including our historically marginalized populations of students with disabilities (SWDs) and English learners (ELs). And yet, knowing how to appropriately differentiate instruction for SWDs and ELs remains an important area of continuous learning. 
Surveys conducted by the Center on Standards, Alignment, Instruction, and Learning (C-SAIL) reveal how strongly principals and teachers desire guidance for teaching grade-level standards to SWDs and ELs.  
This C-SAIL webinar series is a response to these calls for guidance. Join us each month to learn how other educational leaders—principals, district administrators, state policymakers, and researchers—grapple with the challenge of differentiated instruction.
View all recorded webinars on C-SAIL's Facebook page.
Dates, Topics, and Speakers
Peer-Assisted Learning Strategies: A classroom routine for differen tiating instruction, increasing student engagement, and improving reading and mathematics outcomes
Monday, November 4th, 2019, 2-3 p.m. ET | Drs. Doug & Lynn Fuchs (Vanderbilt)
Lynn Fuchs is the Dunn Family Chair in Psychoeducational Assessment at Vanderbilt University. She has conducted programmatic research on assessment methods for enhancing instructional planning, on instructional methods for improving mathematics and reading outcomes for students with learning disabilities, and on the cognitive and linguistic student characteristics associated with mathematics development and responsiveness to intervention. 
Douglas Fuchs, Ph.D. is Professor and Nicholas Hobbs Chair in Special Education and Human Development and a member of the Vanderbilt-Kennedy Center. He has facilitated development of models of service delivery (e.g., pre-referral intervention, responsiveness-to-intervention, reintegrating students with disabilities into mainstream classrooms); assessments (e.g., formative measures of student and teacher evaluation, dynamic assessment); and instructional approaches (e.g., peer-mediated learning strategies). 
Massachusetts' Design and Implementation of Multi-Tiered System of Supports 
Thursday, November 21st, 2019, 3-4 p.m. ET |  Russell Johnston  & Rebecca Shor (Massachusetts Department of Elementary and Secondary Education)
Russell Johnston is the Senior Associate Commissioner and State Director of Special Education for the Massachusetts Department of Elementary and Secondary Education, where his work includes special education, accountability, and data monitoring. Prior to this role, he has served as a special education teacher and administrator and was superintendent of West Springfield Public Schools. 
Rebecca Shor is the Director of the Office of Systems for Student Success for the Massachusetts Department of Elementary and Secondary Education. She has also worked in the state's Office of District and School Turnaround. 
Framing Bilingualism as a Resource in CCSS-Aligned Instruction
Thursday. December 19th, 2019, 3-4 p.m. ET | Dr. Nelson Flores (Penn)
Nelson Flores, Ph.D., is an Associate Professor in the Educational Linguistics division at the University of Pennsylvania Graduate School of Education. He started his career as an ESL teacher and now he examines the intersection of language, race, and the political economy in shaping U.S. educational policies and practices. He analyzes the historical origins of raciolinguistic ideologies that have framed the language practices of racialized communities as inherently deficient and in need of remediation. He also analyzes the ways that these raciolinguistic ideologies continue to be reproduced within contemporary bilingual education policies and practices.
Ohio's Extended Standards for ELs with Disabilities 
January 30th, 2020, 3-4 p.m. ET | Donna Villareal & Wendy Mclaughlin Stoica (Ohio Department of Education)
Donna Villareal is an EL Program Specialist for the Lau Resource Center in the Ohio Department of Education, where Wendy Mclaughlin Stoica works in the Office for Assessment.
Guiding Principles for Working with Diverse Groups of English Learners
February 13th, 2020, 3-4 p.m. ET | Erica Saldívar García (New York University)
Erica Saldívar García is a Clinical Assistant Professor of TESOL/Bilingual/Foreign Language Education in the Department of Teaching and Learning at New York University. Her research lies at the intersection of literacy, language, and race, particularly as it pertains to linguistically minoritized populations. One strand of her research agenda examines the historical development and contemporary implementation of standards reform in the education of students officially classified as English Language Learners.
Culturally Responsive IEPs 
March 5th, 2010, 3-4 p.m. ET | Dr. Brenda Barrio (University of North Texas) 
Brenda Barrio is an Associate Professor of Special Education - Critical Perspectives at the University of North Texas. Her research focuses on the areas of disproportionality of culturally and linguistically diverse students in special education, culturally responsive teaching, bilingual and multicultural special education, and pre-/in-service teacher preparation.