Partners
We're proud to have strong partners and support.

The University of Pennsylvania Graduate School of Education (Penn GSE) is one of the nation's premier education schools. At Penn GSE, students and faculty enjoy an Ivy League environment that supports both practical knowledge building and high-quality research. Its alumni are recognized as some of the world's most influential education leaders, and its distinguished professors are pioneers in their fields.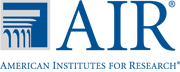 American Institutes for Research (AIR) is one of the world's largest behavioral and social science research and evaluation organizations. Its overriding goal is to use the best science available to bring the most effective ideas and approaches to enhancing everyday life.

The Rossier School of Education is part of the University of Southern California (USC), one of the world's leading private research universities. Rossier seeks to improve learning in urban education locally, nationally and globally and leads the field in innovative, collaborative solutions to improve education outcomes.

Vanderbilt University was founded in 1873 by Commodore Cornelius Vanderbilt and currently enrolls more than 11,000 undergraduate and graduate students throughout its ten schools, including law, medicine, education, divinity and management. The combination of cutting-edge research, liberal arts and a distinguished medical center creates an invigorating atmosphere where students tailor their education to meet their goals and researchers collaborate to solve complex problems related to health, culture, society and commerce.
---
Funding
The Center is funded through a grant from the Institute of Education Sciences (IES) of the U.S. Department of Education.

National Research and Development Center Grant Program
Under the Education Sciences Reform Act of 2002, the Institute of Education Sciences (IES) supports national research and development centers that are intended to contribute significantly to the solution of education problems in the United States by engaging in research, development, evaluation, and national leadership activities aimed at improving the education system, and ultimately, student achievement. Each Center conducts supplemental research within its broad topic area and provides national leadership in advancing evidence-based practice and policy within its topic area.